Featured Project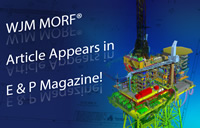 E & P Magazine publishes WJM's article on the Modular Offshore Rig Facility (MORF®). Click here to check out the article!
Latest News
281.497.8617

Offering world-class expertise in the fields of Engineering and Project Management, Procurement, Commissioning, Construction Management, Maintenance and more.

Index > Media > Community Outreach > Stratford High School


Stratford High School Support

William Jacob Management has close ties to Stratford High School Athletics. William (Will) and Jacob (Jake) Duffy, sons of William Jacob Management President, Mike Duffy, used to attend the Houston area high school. In fact, William Jacob Management, Inc. is named after the Duffy boys.

In the Spring of 2011 both Will and Jake played for the Stratford High School baseball team. A very special occurrence as this is only the 4th time in 15 years that both boys have played on the same team.

As a business member of the Booster Club, William Jacob Management has a long history of supporting the athletic program at Stratford High School. Jake and Will played football and baseball for the school as well. Both have since graduated from college but William Jacob Management continues to support Stratford High School and contributes to their recycling program in accordance to our commitment to work towards sustainability and protecting the environment.