Featured Project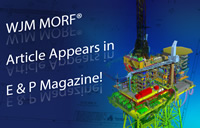 E & P Magazine publishes WJM's article on the Modular Offshore Rig Facility (MORF®). Click here to check out the article!
Latest News
281.497.8617

Offering world-class expertise in the fields of Engineering and Project Management, Procurement, Commissioning, Construction Management, Maintenance and more.

Index > Media > Community Outreach > HOIST


HOIST 2011

In 2011 William Jacob Management continued the tradition of giving back to the community by sponsoring breakfast at the Houston Oilman's Invitational Shooting Tournament (HOIST). William Jacob Management was a Gold Sponsor at the tournament. HOIST benefits the Children's Assessment Center for sexually abused children in our community. Additionally, HOIST donates to the Texas Parks, Wildlife Foundation and the Wounded Warriors program.

William Jacob Management was at the tournament on Saturday, May 14th to serve breakfast before the tournament.

The tournament hosted approximately 420 participants. All of the participants work in the Oil Industry as required by the tournament rules. In addition, representatives from all of the other sponsors and organizers were in attendance. William Jacob Management feels this is a wonderful opportunity to spend some time with many associates in the industry in support of a worthy cause.