Featured Project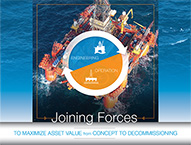 WJM & OD Joing Forces
The alliance between William Jacob Management and Odfjell Drilling arose out of their shared drive to give clients something money can't buy; the confidence of working with a world-class team whose number one objective is the client's success... » Read More
Latest News
281.497.8617

Offering world-class expertise in the fields of Engineering and Project Management, Procurement, Commissioning, Construction Management, Maintenance and more.

Index > WJM Projects in the News > WJM Designer Travels...


WJM Designer Travels to the Canary Islands for M-I SWACO

William Jacob Management (WJM) recently signed a new Master Service Agreement (MSA) with M-I SWACO, a Schlumberger company – one of the world's largest oilfield service providers in the oil and gas industry. The project created an exciting adventure for WJM and team member Benito Vega, Piping & Mechanical Design Lead.

In January 2015, Vega traveled to the Canary Islands to perform an offshore survey for M-I SWACO on a recently installed AUTOMATIC TANK CLEANING (ATC) LITE system aboard the Rowan Renaissance drillship, a UDW floater that can reach a maximum total drilling depth of approximately 40,000 ft.

The ATC LITE technology is uniquely engineered for a range of mud tank cleaning and recycling applications. It can be installed long-term or permanently aboard offshore rigs and supply vessels. ATC LITE is the only technology of its kind providing a cost-effective, fully-automated and easily operated alternative to conventional cleaning.

M-I SWACO installed their ATC LITE system to an existing tank cleaning system that was previously installed on the 12,000 ft. drillship but was not fully functional. WJM was brought onboard to perform a survey that consisted of reviewing all of the additional equipment and piping for the new M-I SWACO technology, as well as, walking down the existing system to record information necessary to complete an as-built P&ID (Piping and Instrumentation Diagram) to by-pass the existing equipment. All remaining engineering services required for the survey will be completed in WJM's headquarters located in Houston, Texas.

Vega performed the M-I SWACO job while the Rowan Renaissance was in operations off the coast of the Canary Islands working for Repsol. The dynamically-positioned drillship was performing an exploratory probe in the Atlantic Ocean approximately 37 miles from Lanzarote and Fuerteventura to analyze the possible existence of hydrocarbons. "This entire trip was an experience of a lifetime that is helping me to grow in my career and participate in new and exciting opportunities. I am ready for the next one", said Benito Vega.

This offshore survey is one of many services WJM offers to its clients. For more information about William Jacob Management's engineering and project management services, please click here.